Fifa Mobile is one of the most popular games in the world. It has exciting features like Ultimate Team, Online leagues, which makes it such a hit among the football enthusiasts. Fifa 17 Mobile, with its immersive graphics and brilliant game play, promises to take this franchise to a whole new level.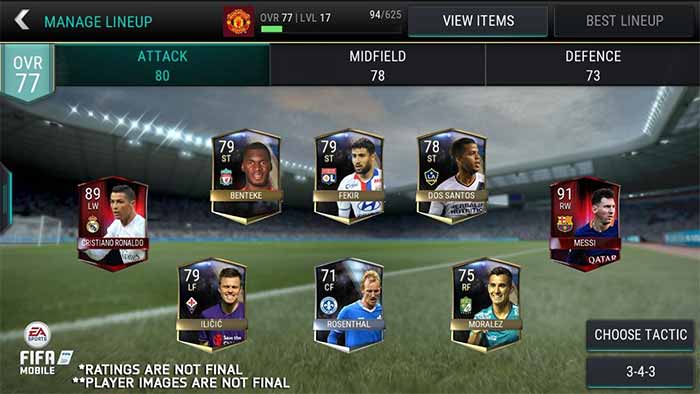 Fifa 17 Mobile Game Some of the best things about this game are:

Variety of Leagues: Fifa 17 Mobile supports as many as 30 football leagues from countries all over the world. Apart from that, total 17000 football stars have been registered with Fifa 17. Hence, no matter which team you support, you will be able to play with them.

Play with your friends: Fifa 17 Mobile will also have a social edge to it. For the first time, you will be able to join your friends and compete together in different leagues. By competing against other groups, you will get an opportunity to make your mark in the world of Fifa.

Ultimate Team: The Ultimate Team is one of the best features of the Fifa Mobile Game. It allows you to buy players, trade players, transfer them and make your own fantasy squad. Fifa 17 Mobile have introduced new features which will make the Ultimate Team more fun to play. There is a squad building option, which allows you to make a deeper and a much more bigger squad. Apart from that, you will also be able to manage players more efficiently.

There are four modes in the Fifa 17 Mobile Game. They are:
1. Live Events: Fifa 17 Mobile game will constantly keep you updated on all the events which are happening in the real football world. You will get to know the results, standings of each league through this game. Apart from that, every day, there will be Live Event Challenges. They can be of different types. In some challenge, you may have to score free kicks or score a solo goal with one player. Make sure that you participate in these challenges. Because, you will get coins, if you successfully completely them. These coins can be used to buy packs.


2. Season Mode: Fifa 17 Mobile game doesn't have a Career Mode option. However, there is a Season Mode. Here, you can play an entire season with your squad in any of the 30 different leagues.

3. Attacking Mode: This is one of the best things about the Fifa 17 Mobile Game. Fifa has introduced this mode for the first time. This is not like a real football game. It is a turn-based game. First, you will take your turn and try to score as many goals as possible. With each goal you score, you will get more fans and more fans will mean more points.


4. League: As discussed earlier, there is also the League Mode. When you reach Level 5 in the game, you will be able to join different leagues.

Release date: Fifa 17 Mobile game is set to release in the last week of September. Fifa has made several adjustments to their Artificial Intelligence Mechanism. This game will have a much more realistic feel to it. The graphics is also expected to be much better. Many users complained that Fifa 16 was too big and occupied too much space. However, the developers have promised to solve this problem, so that everyone can easily download it.
At mmorog™ you can find the cheap price of fifa 17 mobile coins and useful tips/news for this amazing game.